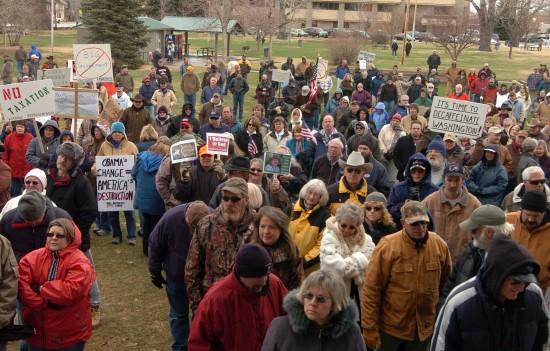 About 300 people gather in snow and freezing temperatures on Wednesday at City Park in downtown Cody to protest federal taxes and spending. The so-called tea party was one of thousands organized around the country aimed at drawing attention to public discontent with economic bailout and stimulus spending, as well as other issues.
January 16, 2017
Wyoming lawmakers run away from new taxes like stampeding buffalo, out of fear of voter retribution.
But supporters of a bill that would require state sales taxes to be collected on residents' Internet purchases contend that it isn't a "new" tax at all because there's already an existing tax that virtually no one voluntarily pays. A lack of opposition to the proposed legislation indicates either Wyoming consumers don't mind paying the state sales tax or they have no idea what will soon be hitting their wallets.
According to a U.S. Supreme Court ruling in 1992—the caveman days of the Internet—online shoppers should fill out a form each year and remit sales taxes they owe for anything they've bought on the web. But since the tax works on something like the honor system, almost nobody actually pays it. (Do you? Didn't think so. Us neither.) Lawmakers searching for new revenue sources see going after these taxes as a way to pump nearly $30 million a year into the state's coffers—without, they hope, compromising their reelection prospects.
U.S. Sen. Mike Enzi has sponsored the federal Marketplace Fairness Act, similar legislation currently bogged down in the U.S. House. He joked, "I think there are three people in Wyoming who send [the online sales tax payment] in every year. It's hard for people to keep track of. You need a collection method."
That method in Wyoming looks to be House Bill 19, sponsored by the Joint Revenue Interim Committee. So far it's sailing through the Wyoming House, where it will be on its third and final reading Tuesday. The House Revenue Committee approved the bill 9-0 after hearing about a dozen small businesses and retail associations in the state sing its praises.
Nationally, Enzi's bill has drawn opposition from the conservative Heritage Foundation and large Internet sellers like Overstock.com. But the nation's largest online business, Amazon, has agreed to add Wyoming to the other 33 states for which it now collects state sales tax. Wyoming Amazon customers have until march to shop tax-free.
The Heritage Foundation has a position paper and other articles on its website that claim forcing out-of-state online businesses to collect sales tax amounts to a new tax, simply because more people would be paying taxes than before. The conservative think tank called laws like HB 19 "economic protectionism for local businesses" that discourage free trade and "hobble the Internet economy."
Retail trade associations and small businesses support the bill because they want that protection. They believe it will "level the playing field" and allow them to better compete with huge online companies. Since shoppers have to pay taxes at brick-and-mortar buildings but not for online purchases, online retailers have an unfair advantage in attracting customers. This bill, supporters claim, would remove that unfair advantage.
Amazon's dominance in the retail market has already begun to bring about the downfall of traditional big-box outfits like Sears and Kmart, which are closing many of their stores because they can't compete. Amazon accounted for a staggering 38 percent of all holiday sales last year.
Of course, the rise of these retail giants years before the dawn of Amazon prompted many downtown mom-and-pop shops to shutter. Big-box stores brought corporate homogeneity and low-paying jobs to communities throughout the state along with their bargain-basement prices. But small towns, in particular, will be hurting even for crappy jobs as more stores close because they're unable to compete with Internet commerce. In the meantime, big-box bosses will undoubtedly use their failures as evidence to argue against increasing employee wages, because it would cut into their bottom line—a favorite excuse of Wal-Mart, which appears likely to be the last big box standing.
Adding sales tax to Amazon purchases might not be enough to save bloated corporate retailers in the long run, but nimbler small businesses consider HB 19 a glimmer of hope. Rob Monroe, a Casper florist, testified before the revenue committee that large online flower peddlers get their competitive edge from bulk shipping. Florists operate on thin margins, he said. "That 5 percent we're collecting on sales tax is the difference between profit and loss in my industry."
Gov. Matt Mead said HB 19 and Amazon's decision to collect Wyoming state sales taxes come at a perfect time to help reduce the state's budget crisis. "The additional tax collections will not come close to solving the issues the state faces, but will obviously help. … Wyoming businesses are at a disadvantage when Internet businesses fail to collect tax. This is an important step in the right direction."
But will a sleeping giant of anti-tax sentiment in Wyoming awaken with a howl once consumers see extra fees tacked onto their online purchases? Or will the prospect of supporting Wyoming's small businesses while decreasing the state's fiscal hurt by paying a tax that they should have been paying anyway be enough for people to feel alright about kicking a bit more into the shared pot?
https://betterwyo.org/wp-content/uploads/2017/01/anti-tax-protesters.jpg
351
550
BetterWyoming
https://betterwyo.org/wp-content/uploads/2019/04/BW-Logo-500x239-500x239.png
BetterWyoming
2017-01-17 02:50:42
2018-03-19 15:32:07
Wyoming lawmakers look to pass a new tax by claiming it's not a new tax