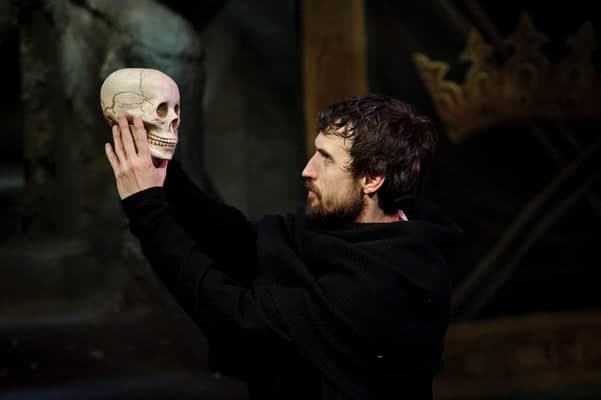 Rep. Scott Clem attempts to persuade his dead friend Yorick that the nation is on the verge of collapse
January 20, 2017
The Wyoming State Legislature seems completely unable to deal with the state's budget problems, but boy are some of its members excited to try to meddle with the federal government's budget.
On Tuesday, several Koch-Brothers-bandwagon riders rushed to the microphones in the House to tell their colleagues that the country is on the verge of collapse if they don't find some way to lower the national debt.
"Our nation's capital is bankrupting America," said a somber Rep. Matt Winters (R-Thermopolis). "The greatest threat to our national security comes from within—borrowing money."
The lawmakers were debating a resolution, H.J.R.-2, that calls on the federal government to amend the U.S. Constitution so that it mandates a balanced budget. Most economists think this is a horrible idea, mostly because it would preclude debt-financed spending during a recession—if the economy lags, the government would be unable to finance job-creating infrastructure projects, for instance, or provide benefits like Social Security or unemployment.
But golly, does the prospect of telling those Fat Cats in Washington, D.C., to shape up prompt some real theatrics from GOP state legislators.
Opposite the dour, Shakespearian monolog by Winters was a near-hysterical Scott Clem (R-Gillette), who warned that if the budget is not balanced, "Our country is going to implode from within!"
But, he breathlessly intoned into the mic: "We are on the cusp of something great."
That something refers to Wyoming's chance to join the cry for a national constitutional convention, an event that hasn't taken place since 1787, when the Founding Fathers ripped up the original Articles of Confederation and replaced it with the document so many today proclaim to know and love. Such a convention would provide politicians the opportunity to propose any amendment they wish, which would become law if ratified by three-quarters of the states. The idea for a convention has floated on the radical-right fringe for decades, but as that fringe has made headway into mainstream politics, billionaire-funded groups like the Koch Family Foundation, American Legislative Exchange Council, and Donors Trust have begun the push to make the it happen.
Clem was not alone in his support of the prospect. Several speakers urged the Wyoming House to call for a constitutional convention to pass a Balanced Budget Amendment. Some, however, weren't convinced, and the discussion pitted several staunch conservatives with opposite views against each other.
Rep. Marti Halverson (R-Etna) didn't like the way portions of H.J.R.-2 were written and urged a 'no' vote. "There's just too much wiggle room in this," she said. Halverson and a few other House members are worried that if a convention is held, it could open up the Constitution for other amendments Wyoming doesn't want, such as a tax increase or term limits. She called Article V of the Constitution, which pertains to conventions, "the black hole of the Constitution."
Clem said, "The fear is a runaway convention" in which any issue can be brought up, not just the Balanced Budget Amendment.
If neighboring Utah has anything to say about it, a runaway convention is exactly what would happen. Utah state legislator Ken Ivory, the unelected leader of the movement to privatize federal public land—not only in Utah but throughout the West—is pushing for a constitutional convention to force the federal government to turn over public land to Western states. Ivory has met several times in recent years with Wyoming legislators who also push public land transfer.
For a constitutional convention to take place, Article V of U.S. Constitution requires two-thirds of the states (34) to petition Congress, and then three-fourths (38) of the states must ratify the petition. Convention boosters claim 28 state governments are currently on board, and they're looking to reliably conservative states like Wyoming to get them over the bar.
Contact the sponsors of H.J.R.-2, which calls for a Balanced Budget Amendment
Tyler Lindholm
[email protected]
The Wyoming House rejected a Balanced Budget Amendment resolution last year, by a vote of 28-31. In 2015 a similar resolution passed but the House and Senate couldn't agree on a final version, so it died.
Rep. Timothy Hallinan (R-Gillette) said he proposed a similar resolution in 2010 that failed. "I will be happy to vote yes on this one," he said.
Clem said he attended a mock constitutional convention last year—perhaps where his theatrics around the issue come from, since the event sounds like a role-playing gathering where conservatives get gussied up and act out their libertarian fantasies.
Everything went smoothly, Clem assured the House, and the Balanced Budget Amendment was the only one discussed. "The [nation's] founders were brilliant," he said. "I ask you to trust the founders and trust the process, dear friends, I saw that first-hand. There was no runaway convention. That's just fear-mongering."
Winters contended that when Congress does not do its job it's up to the people to set things right. "We have a duty to hold the federal government in check, in balance," he said.
This chest-thumping bravado and railing against far-off enemies has become a recurring theme in Cheyenne this legislative session. Meanwhile, lawmakers continue to appear completely inept at addressing the actual problems we face here at home.
Receive weekly email roundups of our Capitol Dispatches and other Better Wyoming communications by filling out the form on our homepage. You can also follow us on Facebook and Twitter.
https://betterwyo.org/wp-content/uploads/2017/01/Clemlet.jpg
400
601
BetterWyoming
https://betterwyo.org/wp-content/uploads/2019/04/BW-Logo-500x239-500x239.png
BetterWyoming
2017-01-21 04:14:10
2018-03-19 15:32:37
Enter stage left: House representatives turn to dramatics to call for a Balanced Budget Amendment