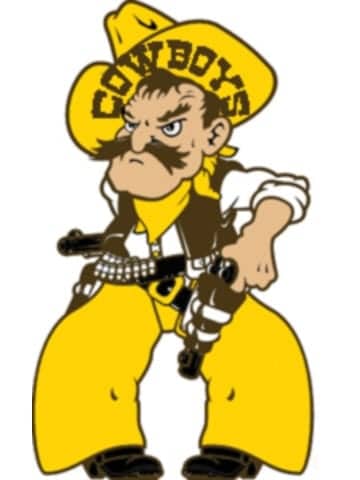 Cowboy Joe will remain the only one packing heat on the University of Wyoming's campus (except for trained law enforcement and folks who have concealed-carry permits through the university security department)
February 24, 2017
It's happened before, but it's still a surprise when one of the most controversial bills of a legislative session is voted on without a word of debate. That's what happened in the Senate Thursday when members chose not to discuss a bill to allow concealed carry of firearms for permit holders on college campuses. The Senate Republicans caucused among themselves for a good portion of the morning, then filed into the chamber and killed it outright.
House Bill 136 died unceremoniously on a 13 – 17 vote, ending two weeks of speculation about whether this might be the first time in six years the Senate would pass a House-sponsored gun bill. The bill was the subject of an intense war of words during public testimony in the chambers' respective Judiciary Committees.
HB-136 pitted extremely vocal Second Amendment advocates versus the University of Wyoming and the state's seven community college presidents, who unanimously opposed the bill.
Supporters argued that everyone on college campuses would be safer if some concealed carry permit-holders were secretly packing heat. If there was a shooting anywhere, these Rambo-style protectors would supposedly put the attacker out of commission immediately because, as they repeatedly maintained, "The only thing that can stop a bad guy with a gun is a good guy with a gun."
But opponents said the campus population would be less safe in the event of a shooting incident, because it wouldn't be clear who was shooting at who and innocent bystanders could easily be caught in the crossfire. Police responding to such a scene, they added, wouldn't be able to quickly determine which shooter instigated the attack.
The bill's Senate co-sponsor, freshman Sen. Anthony Bouchard (R-Cheyenne), seemed a bit rattled after the defeat when he got up to introduce his next bill, HB-137. "I've brought another good bill that we can kill, I guess," he moped to his fellow senators.
Guns in government
But Bouchard had better luck this time with a bill to repeal gun-free zones at governmental meetings, including at the Legislature. After a fairly spirited debate the bill narrowly passed, 16-14. "We should be able to trust the people with permits," Bouchard said.
Sen. Cale Case (R-Lander) said he believes in the Second Amendment guarantee of the right to bear arms. "Law-abiding citizens don't [do bad things]," he said. "I don't think gun-free zones are any good anywhere. They're not good for schools. I think they are killing zones."
Sen. Curt Meier (R-LaGrange) criticized gun-free zones. "That's where the guns aren't," he said, claiming that's why these areas are sought for attacks by so many mass shooters. "It would comfort me if we had an ex-law enforcement person or permit-holder to protect me and the public at meetings."
PUBLIC OUTCRY HELPED KILL CAMPUS CARRY
Even if the unanimous opposition to the campus carry bill by higher ed administrators was (likely) the most important reason the bill failed, the voices of hundreds (thousands?) of people writing and calling their Senators undoubtedly had a major impact. Just as both
HB-135
and the
public land transfer amendment
died this session, campus carry was the subject of so much public outcry that lawmakers decided they didn't want to deal with it. It just wasn't worth it to them. See how that works?
But Sen. Jim Anderson (R-Casper) said many people who get concealed permits only have one so they won't be fined if they carry a shotgun in their pick-up and put their coat over the weapon when they're going hunting. "They don't have it to protect you at a public meeting, and probably they couldn't," he said.
Bouchard said none of the warnings made by opponents when constitutional carry passed in 2011 came true. "They said the sky was going to fall, no one will protect you, it's going to be the wild, wild West.  None of that happened; there aren't bullet holes in homes or in the streets," he noted. "We see cases every day where concealed carry permit-holders throughout the country defend themselves."
Freshman Sen. Liisa Anselmi-Dalton gave what was perhaps the best argument against allowing people to carry concealed weapons at government meetings. "I could go down tomorrow and get a concealed carry permit too. I could get fingerprinted," she said. "I couldn't shoot a gun to save my life or yours. It doesn't comfort me that we could have everyone in this Legislature carry a gun and just have 'Shootout at the O.K. Corral.'"
"I want a WyDOT officer standing back there protecting me," she added. "Believe me you don't want me protecting your life. You'd rather have me go down with the Titanic."
But HB-137 passed its introductory vote in the Senate, 16 – 14. It will still need to be approved in two subsequent readings before final passage.
Guns in public schools
Next, the Senate took up a proposal that largely flew under the radar this session. HB-194, labeled "school, safety and security," would allow a school district's board of trustees to give permission to an employee with a permit to carry a concealed firearm at a public school.
The Senate passed HB-194 on first reading by a voice vote. A roll-call vote will be required if the bill makes it to third reading.
Sen. Paul Barnard (R-Evanston) said there is no bill that will ever completely make a school safe or secure, and not all school districts will want employees to carry guns. "But hopefully with this bill we might move a step closer," he said.
Barnard said some rural schools have response times by law enforcement between 15 and 40 minutes. "If you stop and think about a school shooting, probably the most critical time is the first 5 to 8 minutes," he said. "Chances are the [incident] is already over by then. The question is, who is there to defend those students? The teacher and the staff."
Under the bill, employees who could be allowed by school boards to carry concealed guns include superintendents, assistant superintendents, principals, assistant principals, teachers, guidance counselors, librarians, teacher's aides, coaches, business managers, secretaries or administrative assistants, janitors, bus drivers, volunteers or other employees on contract with a school district.
"These people can, if they're trained right, be able to protect our students," said Barnard, who added that the school district must tell parents that some unidentified employees are armed. School officials will also be required to let local law enforcement know who has permission to conceal-carry.
"Hopefully if they're in a shootout, they'll be able to recognize those teachers … I'd love to be driving one day and see a sign at a school that says, 'We love our students, our teachers and staff are trained to protect them," Barnard said.
Sen. Hank Coe (R-Cody) said a Wyoming arms expert with 37 years of experience who testified on the bill stressed to lawmakers the importance of making certain that school employees allowed to conceal-carry guns receive at least 24 hours of training. He said some states require up to 80 hours of training.
"I believe in local control," Coe said. "This bill is all about local control. … Districts want this."
Receive weekly email roundups of our Capitol Dispatches and other Better Wyoming communications by filling out the form on our homepage. You can also follow us on Facebook and Twitter.
https://betterwyo.org/wp-content/uploads/2017/02/cowboy-joe.jpeg
480
360
BetterWyoming
https://betterwyo.org/wp-content/uploads/2019/04/BW-Logo-500x239-500x239.png
BetterWyoming
2017-02-25 01:20:17
2018-03-19 15:33:19
Campus carry is dead (while bills to allow guns in government meetings and public schools advance)