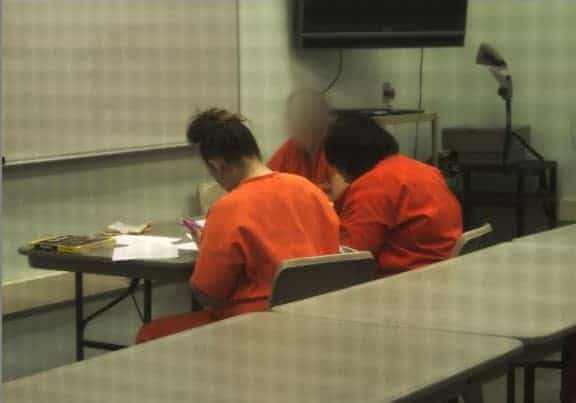 Inmates at Wyoming's women's prison in Lusk. According to Wyoming Department of Corrections Deputy Director Steve Lindley, 85 percent of the state's female population needs substance abuse treatment. The Legislature cut substance abuse funding last year.
Nov. 17, 2017
After the Good Ol' Boys killed a comprehensive criminal justice reform bill last legislative session via dirty back-room politics (read Andrew Graham's excellent exposé on the subject at WyoFile), the Joint Judiciary Committee is trying to pick up the pieces and move them forward, bit by bit.
But that doesn't mean the "tough on crime" zealots who helped kill reform efforts last year have stopped pushing to make sure every prison bed in Wyoming stays full.
The debate between reformers and pro-prison desperados will determine whether Wyoming's incarceration rate (and prison costs) continue to skyrocket, or whether we can move toward a system that puts rehabilitation before punishment.
"We're at a crossroads"
The Judiciary Committee considered two competing bills at its meeting in Wheatland on Friday. One would allow the Wyoming Department of Corrections to offer alternatives to prison when people violate their probation or parole. The other would decrease the state parole board's ability to reduce inmates' sentences for exemplary behavior, making sure even the best prisoners stay locked up longer.
"We're at a crossroads," DOC deputy director Steve Lindley told the committee. "We're going to have to build prison beds or send people out of state before too long." With Wyoming prisons full, he said, his department has few options.
According to the Prison Policy Institute, Wyoming's incarceration rate has roughly quadrupled since the 1970s. A new report by Wyoming's chapter of the American Civil Liberties Union says this trend results from the Legislature's creating slews of new criminal laws every session.
The Wyoming DOC's annual budget topped $300 million in 2013 – 14. But the recent bust has forced the agency to absorb $18 million in cuts, including $4.5 million that funded substance abuse treatment. Baseline cost considerations—not, as one might imagine, the goodness of lawmakers' hearts—are largely driving reform efforts.
A decent start to criminal justice reform
"Justice reform – graduated sanctions" is the name of the bill that would allow the DOC to offer parole and probation violators punishment other than prison. It's a decent place to start.
DOC Director Bob Lampert told the Judiciary Committee that 40 – 45 percent of Wyoming's prison inmates are serving time for probation or parole violations. The majority of those people, he said, are locked up for crimes related to substance abuse.
The "graduated sanctions" bill would basically give judges two non-prison options for probation and parole violators. The first would be a "quick dip"—lawmakers' cutesy nickname for a two- to three-day jail sentence that, we gather, would give violators time to reflect on the fact that they screwed up without immediately burying them in the system.
The second option is also jail-based, but involves longer sentences and emphasizes substance abuse treatment provided by local mental health facilities. Lindley estimated that 85 percent of current female prison inmates and 75 percent of the male population need some sort of substance abuse treatment, and the rates are climbing.
So, even though inmates can't get access to substance abuse treatment in prison right now thanks to budget cuts, this bill would allow them to make it out, break their parole, and then get the help they need in jail. Go figure.
"Justice reforms – graduated sanctions" would cost roughly $680,000 to implement, but it could save the state nearly $5 million per year by diverting people from prison. According to the ACLU, incarceration costs Wyoming between $35,000 – 53,000 per inmate each year.
Besides the DOC leadership, others who spoke in favor of the bill included Wyoming State Board of Parole Director Ed Risha, Judge Marvin Tyler of Wyoming's Ninth Circuit Court, Wyoming ACLU Director Sabrina King, Tom Jubin of the Wyoming Trial Lawyers Association, and Wyoming Association of Sheriffs and Chiefs of Police Byron Oedekoven.
The committee passed it nearly unanimously, with Tara Nethercott (R-Cheyenne) the lone dissenting vote.
Wyoming keeps "special good time"
Another bill, "Sentencing – elimination of special good time," aimed at an opposite goal and thankfully suffered an opposite fate.
Although "special good time" sounds like something you might request at a shady massage parlor, in this case it refers to time off a prisoner's sentence granted for exemplary behavior. The bill would have simply removed the parole board's ability to grant "special good time," an option it has had for 60 years.
"What's the point of this bill?" Sen. Liisa Anselmi-Dalton (D-Rock Springs) asked upon its introduction at Friday's meeting.
Sen. Leland Christensen (R-Alta), co-chair of the Joint Judiciary Committee, explained that it was the brainchild of Natrona County Prosecutor Mike Blonigen. The "tough on crime" county attorney had attended a committee meeting earlier in the summer to rail against "special good time" because it allegedly hurts crime victims by letting perpetrators out sooner than expected, and because it allegedly prompts prosecutors to ask judges for longer sentences in response.
Blonigen did not attend Friday's meeting to engage in debate over the bill he inspired, and his arguments—mostly relayed by Christensen—failed to convince many people in his absence. The Judiciary Committee killed the bill, with all members voting against it besides Christensen, an ex-cop, and Sen. Larry Hicks (R-Baggs).
Back-door Blonigen
Blonigen's absence from Friday's meeting shouldn't indicate to anyone that the activist prosecutor is finished trying to scuttle criminal justice reform and keep more people in Wyoming in prison.
Blonigen sat out the two-year process that a wide variety of stakeholders undertook to craft the comprehensive criminal justice reform bill that died last session.
Instead of testifying against the bill in public, he lobbied vehemently against it behind the scenes. According to Graham's WyoFile exposé, Blonigen sat down at a closed-door meeting with the co-chairs of the Joint Judiciary Committee the day before the committee was scheduled to hear the criminal justice reform bill. The committee never heard it. Instead, Blonigen convinced them to let him help re-write a different bill, which the prosecutor's friend, Senate President Eli Bebout (R-Riverton) subsequently killed.
Don't be surprised if Blonigen pops back up after his "special good time" bill's defeat to try and sabotage the parole and probation reform bill during the upcoming session.
Sign up for Better Wyoming emails on our homepage and follow us on Facebook and Twitter.
https://betterwyo.org/wp-content/uploads/2017/11/Prisoners.jpg
403
576
BetterWyoming
https://betterwyo.org/wp-content/uploads/2019/04/BW-Logo-500x239-500x239.png
BetterWyoming
2017-11-18 00:38:16
2017-11-18 00:38:16
More prison or less prison? Judiciary Committee kills a "tough on crime" bill and moves a reform bill forward