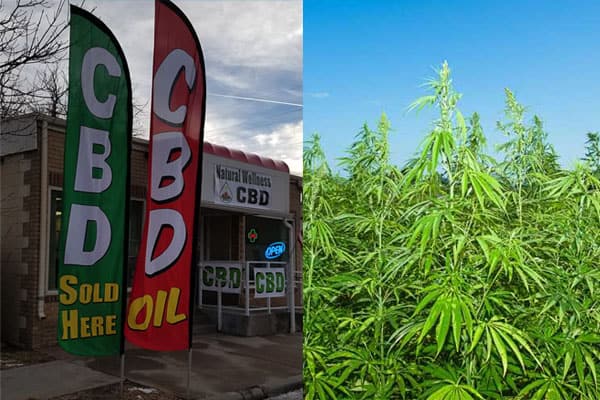 House Bill 171 would clarify Wyoming's confusing CBD laws and develop infrastructure for the hemp farming industry.
Laws about products made with CBD—"cannabidiol," a hemp extract—are confusing in Wyoming. Certain CBD products are legal while others are not, and other products are legal but only for a certain, small group of people.
We'd make some joke here about how it's even more confusing to figure the laws out when you're high, but CBD is non-psychoactive—it doesn't get you high. It's harmless. It's more like an herbal extract that you'd buy at GNC rather than anything related to its cousin, THC, the active ingredient in cannabis.
If House Bill 171 passes the Legislature, it will finally clarify CBD laws for both Wyoming consumers and law enforcement. The bill passed out of the House Agriculture Committee on Thursday with a 9 – 0 vote.
This comes after a separate House committee killed a different CBD bill last week.
HB-171 will now move to the House floor for debate.
Jail for an herbal extract
Some CBD products contain no THC, the psychoactive ingredient in cannabis. But lots of CBD products contain a tiny amount—up to .3 percent. These products with THC are currently illegal in Wyoming, because all THC is illegal here.
The 2018 Farm Bill made CBD legal under federal law
But the 2018 Farm Bill, passed by U.S. Congress, made CBD with up to .3 percent THC legal at the federal level, starting in December. The Farm Bill switched the classification of CBD from a Schedule 1 drug—where it was lumped together with methamphetamine and heroin—to an agricultural product with no criminal penalties.
HB-171 would essentially catch Wyoming up with federal law. This can't happen soon enough. Law enforcement agencies across the state are still treating CBD like marijuana. Last year arrests were made in Jackson, Gillette, and Evanston, and people were charged with felony possession of liquid marijuana.
It's not marijuana
HB-171 sponsor Rep. Bunky Loucks (R-Casper) painstakingly explained to the House Agriculture Committee on Thursday that CBD oil—which is used to relieve pain and treat cancer, epilepsy, auto-immune disorders, and many other diseases—is not marijuana.
"It has nothing to do with it. It. Won't. Get. You. High," he said.
"It. Won't. Get. You. High."
Along with CBD, Loucks said an "amazing amount" of products can be made from hemp, including fabric, food, bio-diesel fuel, plastics, rope, building material, molded panels, car components, wallpaper, and vitamin supplements. Loucks' bill also includes provisions that would help Wyoming develop its hemp farming industry.
To make sure their House colleagues won't confuse CBD with medical marijuana and automatically kill HB-171 (even though polls show a vast majority of Wyomingites support medical weed), the committee voted to take the word "cannabidiol" out of the bill's title.
Lining up with federal law
A Greeley, Colo., couple, David and Rachelle Tabor, opened Natural Wellness CBD in downtown Cheyenne two weeks ago. A few days later they had a visit from the chief of police, who wanted to know what they were doing.
The Tabors' CBD oil contains no THC, and the chief left satisfied that no laws were being broken. Rachelle Tabor said she thought they could legally sell CBD with .3 percent THC—the limit under federal law—but the couple has no desire to get arrested and test Wyoming's current hemp laws in court.
"You can legally buy CBD oil with THC online," said Rachelle Tabor. "But why buy it online, when you don't know anything about [the quality] of what you are getting?"
That's one very important aspect of HB-171: It would have the Wyoming Department of Agriculture conduct tests of CBD oil to determine the THC content, according to the guidelines set by federal law.
That fact made all the difference to Byron Odekoven, director of the Wyoming Association of Sheriffs and Police Chiefs, who earlier in the session helped kill House Bill 100, a hemp extract measure that did not establish state standards for producing, possessing, buying, and selling CBD oil.
"It's like if you have two bottles of whiskey," Odekoven told Better Wyoming. "One has a state stamp and the other doesn't. One is whiskey and it's legal, and the other is moonshine and it's illegal."
Get hemp farming going
Along with its CBD provisions, much of HB-171 deals with growing hemp and producing hemp products.
In 2017, the Legislature passed a bill that legalized industrial hemp farming, but the law did not put in place funding or the state programs required to get the industry off the ground.
Testifying on Thursday in favor of HB-171 were state and county officials and farmers, who enthusiastically said growing industrial hemp would be a boon to the economy, bringing millions of dollars to Wyoming.
It's important for HB-171 to pass this session, Loucks stressed, so that Wyoming can make its USDA application soon. Once it's approved, farmers can plant hemp seeds and clones that can be harvested this year.
An agricultural boon
Jeffrey Loeffler, owner of Loeffler Ag Services, told the House Agriculture Committee that his company plans to build a $5 million hemp processing plant. It will donate seeds to the University of Wyoming for research to determine best hemp growing practices in the state.
"I don't want to go to Nebraska to see how they do it," he said. "We can do it all right here."
"Let's get going and start growing."
"Agribusiness is hugely important," said Christine Bekes, executive director of the Powell Economic Partnership. "It helps us grow and diversify our ag industry."
Bekes said she is working with multiple investors who are anxious to get into the hemp growing business in Powell and Sheridan. She said the latter company is planning to hire 8 to 10 employees.
Josh Easley was born and raised in Wyoming, but has been growing industrial hemp on his Rainbow Farms in Colorado for four years. He said he's been "amassing" hemp seeds and clones on the Colorado side of the border, ready to move them to Wyoming and start a new business.
"Let's get going and start growing," Easley said.
The funding question
Whatever happens on the farming side, the passage of HB-171 would be important for clarifying CBD laws and making CBD with small amounts of THC legal in Wyoming. It would stop the confusion and make sure no one is going to jail for possessing an herbal extract.
The farming aspect of the bill would also be very welcome, but it's a bigger lift, simply because it comes with a price tag that must be approved by the Legislature's Joint Appropriations Committee.
On Thursday, Wyoming Department of Agriculture Director Doug Miyamoto convinced the House Agriculture Committee to ask for $200,000 in the bill's budget for testing equipment to make sure all hemp has a maximum THC content of .3 percent. The panel also included a budget request in the bill to add another employee to the department.
Loucks said the goal is to have the state inspection program be self-sustaining through $500 license fees annually paid by producers. But it needs to get going first.
A $200,000 request seems like a small price to pay for a new industry in Wyoming, but nothing is certain when it comes to the Legislature funding commonsense projects.
https://betterwyo.org/wp-content/uploads/2019/01/cbd-hemp.jpg
400
600
BetterWyoming
/wp-content/uploads/2020/07/A-Better-Wyoming_logo.png
BetterWyoming
2019-01-25 13:42:19
2019-01-25 13:42:19
House committee approves bill to legalize CBD and spur Wyoming hemp farming