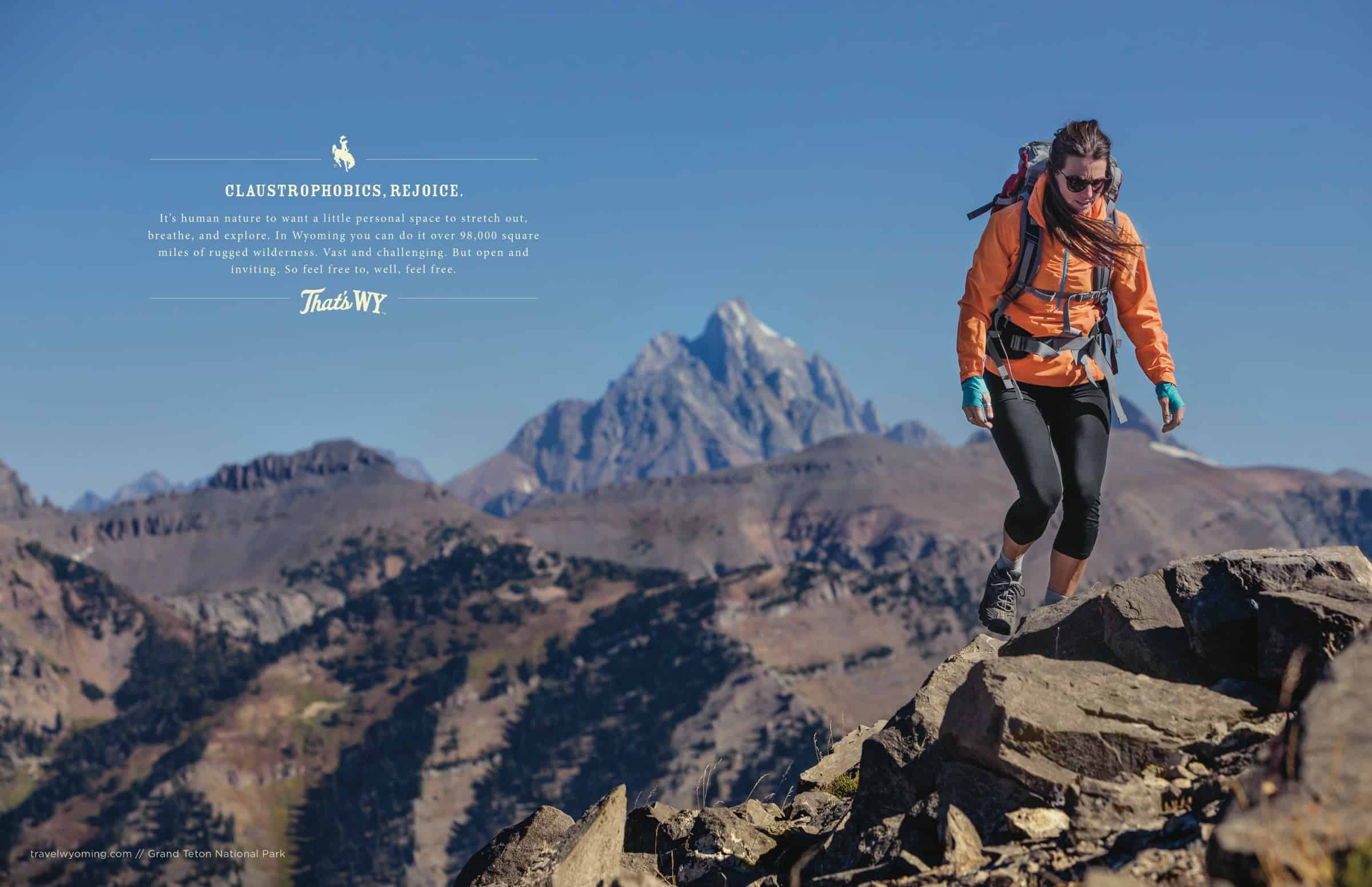 The Wyoming Office of Tourism forefronts public lands in its national advertising.
The first "Wyoming Public Lands Day" is this Saturday, Sept. 28. Day-use fees at state and national parks will be waived, and dozens of activities and events will take place across Wyoming in celebration of one of our state's biggest assets.
The events are wide-ranging, and each will stress the importance of keeping public lands in public hands. They include a half-marathon through the Red Desert, an outing to install bear boxes at a campground in the Absaroka Mountains, and a number of hikes, trail-building, clean-up, and other recreational and improvement efforts. (see a full list here)
Whether or not event organizers explicitly mention it to participants, each event also ties into a critical part of Wyoming's economic future.
Creation of a celebration
It took two years of lobbying, but in 2019 the "Keep It Public, Wyoming" coalition—a loose affiliation of hunting and angling groups, conservation organizations, business leaders, and thousands of individual Wyoming public land lovers—convinced the Legislature to create a "Wyoming Public Lands Day."
"Proponents see it as a stick in the eye to those who try to take public lands away from us."
"Wyoming Public Lands Day celebrates all that public lands do for our economy and way of life in Wyoming. And proponents for the measure see it as a stick in the eye to those who continually try to take public lands away from us," Dustin Bleizeffer, a member of the "Keep It Public, Wyoming" coalition, told Better Wyoming.
In fact, the "Keep It Public, Wyoming" coalition was first formed in response to efforts by Wyoming lawmakers to lay the groundwork for transferring federal public lands in Wyoming to the state. That ill-fated effort failed in the face of widespread public outcry from people concerned that the state would sell or lease public lands if it gained control of them.
After victory over public land transfer, the "Keep It Public" group turned their efforts toward a proactive project: creating an official day to celebrate Wyoming public lands.
The public lands economy
While mineral extraction dominates Wyoming's economy, tourism and outdoor recreation that depend on public lands comes in second. Protecting public lands ensures that these sustainable industries can grow and thrive.
"People do not come to Wyoming to look at oil and gas wells," Chris Madson, a retired wildlife biologist, pointed out in WyoFile. "They're not interested in taking pictures of gigantic wind farms, stretching to the horizon. They won't buy fishing tackle if the state's rivers have been diverted to grow alfalfa. They won't come to hunt mule deer or bighorn sheep if there are no deer or wild sheep left."
But tourism isn't the only industry that benefits from access to public lands and outdoor recreation. Other Western states have shown how natural amenities like rivers, forests, and national parks can attract entrepreneurs anxious to start businesses and enjoy a rich outdoor life.
In this manner, public lands are critical to high-tech, computer development, advanced manufacturing, and a variety of other industries that could be huge boons to Wyoming's economy.
Beyond tourism
Montana-based Headwaters Economics conducts research on how public lands benefit local economies. It has documented how the West has dramatically changed in recent decades.
"Increasingly, the value of protected public land is linked to recreational opportunities as well as the natural amenities and scenic backgrounds they provide," according to a report. "[Public lands] stimulate 'amenity migration,' drawing entrepreneurs and attracting a skilled workforce across a range of industries."
For instance, Bozeman, Montana, might not seem a likely headquarters for a company like Ascent Vision, which manufactures sensors for unmanned aerial vehicles, maritime surveillance, and self-driving cars. But since its start in 2013, the company has grown from two employees to 60, and it has customers on six continents.
"Public lands stimulate 'amenity migration,' drawing entrepreneurs and attracting a skilled workforce across a range of industries."
Owner Tim Sheehy, a former Navy SEAL, visited Montana in his youth and was attracted to its scenic beauty and quality of life. After he spent part of his military training in the state, Sheehy vowed to return, raise his family, and start a business.
"Far from mere ski bums wishing to escape the rat race, many individuals lured by the Montana mystique are exceptionally talented and aim to build global companies," the Montana High Tech Business Alliance notes on its website.
Hints of a turning tide
There's no reason why Wyoming and its bountiful public lands can't inspire similar business success stories. We should use our public lands to attract and retain talented people who can help diversify the state's economy and move Wyoming past the boom-and-bust cycle of mineral dependence.
Wyoming has failed so far to leverage its public lands as other states have because, here, these lands—and our government—are dominated by mineral extraction and livestock interests. These industries harm our landscapes, ecosystems, and wildlife and do not offer Wyoming a viable economic future.
There are hints, however, that the tide is beginning to change. The creation of "Wyoming Public Lands Day" is one of them.
Pilot Hill and the future
Other hints include the Pilot Hill Project, a community-driven effort in Albany County to connect Laramie with the adjacent Medicine Bow National Forest, which is currently cut off from the town by a tract of private land.
The tremendously popular initiative to acquire the private land and make it public has brought together local and state officials, as well as the business community and a variety of other stakeholders. It would offer abundant outdoor recreation opportunities, protect critical wildlife habitat from roughshod development, and help safeguard the area's primary source of drinking water, the Casper Aquifer.
The project fits perfectly with the goals highlighted by Wyoming Public Lands Day: enhance recreational opportunities for residents and visitors, while promoting economic development by providing a world-class natural amenity to attract and retain businesses and their employees.
Patrick Harrington, superintendent of Curt Gowdy State Park, will lead a hike on Pilot Hill as part of Wyoming Public Lands Day. He called the Pilot Hill Project a model for outdoor economic diversification, explaining that "it makes Wyoming's tourism experience better, while also improving the life of local residents."
Wyoming Public Lands Day and the Pilot Hill Project each represent a shift in perspective among Wyomingites, that we can at once protect our beloved public lands from harmful development and leverage them to diversify our economy.
That, in itself, is a reason to celebrate.
https://betterwyo.org/wp-content/uploads/2019/09/public-lands-ad.jpg
1552
2400
BetterWyoming
/wp-content/uploads/2020/07/A-Better-Wyoming_logo.png
BetterWyoming
2019-09-26 11:12:45
2019-12-03 17:43:41
Wyoming Public Lands Day and our economic future