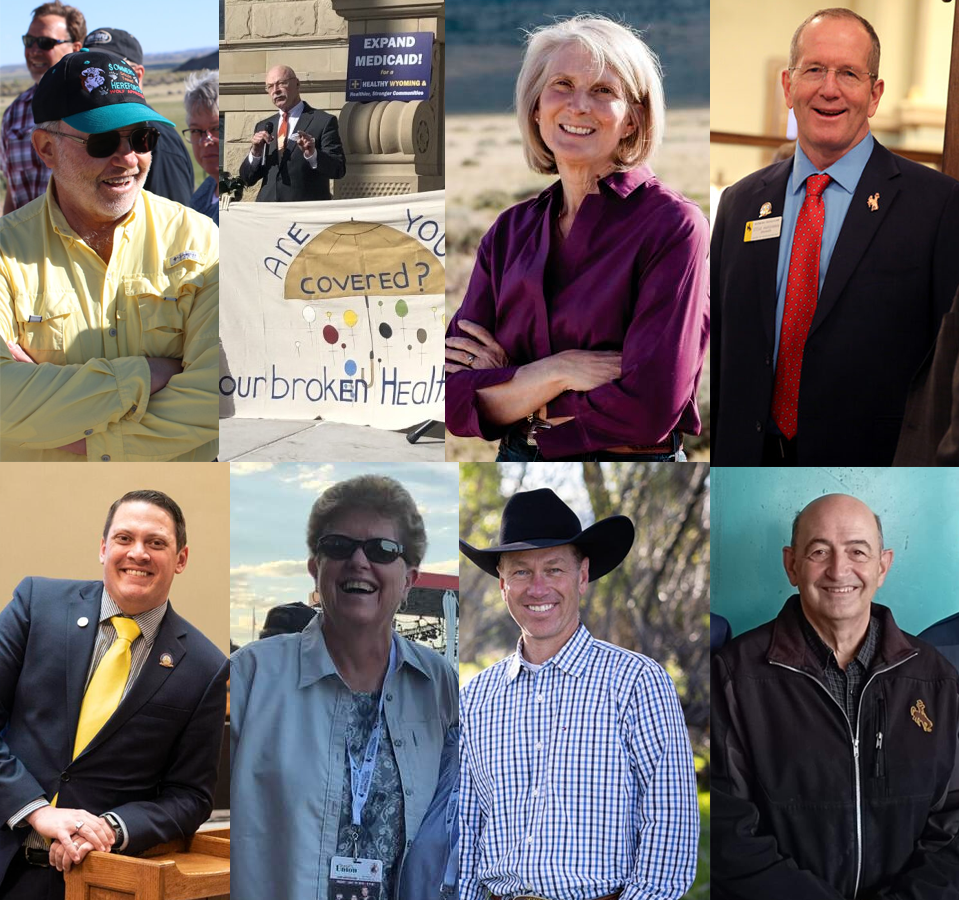 Clockwise, from top left: Rep. Albert Sommers, Sen. Cale Case, Rep. Sandy Newsome, Rep. Steve Harshman, Sen. Stephan Pappas, Rep. Barry Crago, Sen. Wendy Schuler, and Rep. Landon Brown all support Medicaid expansion and won their 2022 GOP primaries.
Tuesday's primary elections showed that Medicaid expansion is popular with Wyoming voters, who overwhelmingly re-elected Republican incumbents in the Wyoming Legislature who support it.
As public demand has grown for Medicaid expansion over the past two years, many Republican lawmakers nevertheless remained fearful that backing the policy might hurt them politically.
After all, powerful right-wing groups like the Wyoming GOP and the Wyoming Liberty Group, as well as mega-donors like Dan and Carleen Brophy, have made stopping Medicaid expansion their top priority.
But as the results came in Tuesday night, it became clear that those fears are largely unfounded.
Twelve Republican legislators who backed Medicaid expansion during the 2021 – 22 session defeated their primary opponents. Many of these challengers tried to use the incumbents' support of Medicaid expansion against them, only to fail.
Other GOP Medicaid expansion backers won their primaries uncontested.
Five Republicans who supported Medicaid expansion did lose. But these included lawmakers like Rep. John Romero-Martinez (R-Cheyenne), who also allegedly threatened to kill one of his colleagues in the legislature this year, and Sen. RJ Kost (R-Powell), who split the vote with another moderate candidate in a three-way race with right-wing lawmaker Rep. Dan Laursen (R-Powell).
All this is to say that the political landscape is complex, and more than one issue is at play.
But the outcomes from Tuesday clearly show that Wyoming Republicans should not feel afraid to back Medicaid expansion due to some idea that voters will automatically throw them out.
RINOs charge forward
Sen. Cale Case (R-Lander) is among the Legislature's most vocal supporters of Medicaid expansion. As chairman of the Senate Revenue Committee, he helped lead the effort to have that committee sponsor a bill to expand Medicaid last year, and then he individually sponsored a similar budget amendment. Unfortunately, neither passed.
Case became the frequent target of right-wing Wyoming GOP members, who even held a rally in Lander featuring Congressman-elect Harriet Hageman and Wyoming GOP Chairman Frank Eathorne to build support for Case's opponent, Shawn Olmstead.
But Case, who is often called a "RINO" (Republican in Name Only), nevertheless soundly won his election. Fremont County Republicans sent him back to the Legislature to continue the fight for healthcare access.
In the Wyoming House, Rep. Steve Harshman (R-Casper) and Rep. Albert Sommers (R-Pinedale) have both unabashedly supported Medicaid expansion, and they will both be returning in 2023.
Sommers, who is in line to be the next Speaker of the House, often expressed worry in conversations at the capitol that supporting Medicaid expansion could hurt him and his colleagues in the primaries.
The people of Sublette County, who voted last election to raise their taxes to create a hospital, handed Sommers a huge win.
He was particularly concerned about people like Sandy Newsom (R-Cody), who he knew would face a tough 2022 race in deeply conservative Park County.
During the run-up to this week's election, vandals spray-painted "RINO" on many of Sommers' yard signs in Sublette County. Newsome was also called a RINO by her opponent, Wyoming GOP National Committeewoman Nina Webber.
But the people of Sublette County, who voted last election to increase their own taxes to create a hospital district, handed Sommers a huge win—58 to 38 percent over Schmid.
Meanwhile, Newsome beat back Webber in a close but definitive race.
"No" votes beaten anyway
It was already public knowledge that most Wyomingites—including most Republicans—support Medicaid expansion long before the primaries. Polling by the American Cancer Society's Cancer Action Network shows nearly 60 percent of GOP voters want the Legislature to pass the policy.
A lesson for Republican legislators: If supporting Medicaid expansion won't doom you, neither will opposing it save you.
Four Republican incumbents who opposed Medicaid expansion lost on Tuesday—two were defeated by more moderate challengers, and two lost to candidates who were further to the right.
Sen. Tom James (R-Rock Springs), one of the loudest Medicaid expansion opponents in the Legislature, was trounced by realtor Stacey Jones. Rep. Tim Hallinan (R-Gillette), who dubiously argued against Medicaid expansion from his perspective as a retired physician, lost to physical therapist Ken Clousten.
During the 2022 Legislative session, former Senate President Drew Perkins (R-Casper) was considered a critical swing vote in the Senate if Medicaid expansion was going to pass.
Perkins, who had the power to sway a number of his colleagues even on controversial policies, had been lobbied heavily by grassroots members of Healthy Wyoming in Natrona County. He acknowledged to them in private that Medicaid expansion is the right thing to do.
But believing it would not have the votes to pass, and looking ahead to his 2022 race against right-wing challenger Bob Ide, Perkins decided to publicly oppose Medicaid expansion, dooming its prospects.
On Tuesday, Ide beat Perkins anyway, providing yet another lesson for Republican legislators: If supporting Medicaid expansion won't doom you, neither will opposing it save you. If you know it's the right thing to do, you should stop playing political games and vote accordingly.
https://betterwyo.org/wp-content/uploads/2022/08/medex-GOP-supporters.png
900
959
BetterWyoming
/wp-content/uploads/2020/07/A-Better-Wyoming_logo.png
BetterWyoming
2022-08-18 14:31:45
2022-08-22 11:48:32
GOP Medicaid expansion supporters defeat primary challengers