The Wyoming State Legislature is shaping our future.
Are you just going to sit there?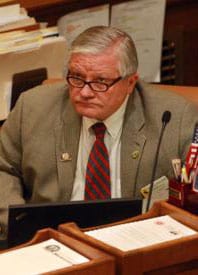 Thanks to our new organizing staff, through the 2020 Election, we're running three advocacy campaigns to influence what goes down in the Wyoming Legislature and in Wyoming's local elections. Each of our issue advocacy campaigns involve phone banking, citizen lobbying, and getting residents to work with one another to move Wyoming forward.
Our goal is to get everyday folks to become empowered constituents. We will be working tirelessly throughout Wyoming to cultivate a statewide network of activists who together can apply pressure on their lawmakers to advocate for the issues that matter most to real Wyomingites.
No matter where you are in the state, we can always use your help in fighting for a better Wyoming.
(There are more details beneath the sign-up form.)
Reach out to Your Representatives
If there is a bill and we need people to speak up we will need you to help us email and call your local legislator and demand that they do not support bad policy!
Spread the Word
Help us call around the state to raise awareness among fellow Wyomingite on the issues that we are fighting for.
Lobby Your Legislators
Getting folks from around the state to come out to the legislature for Citizen Lobby days to speak to their individual lawmakers and ask that they take action!
Commonsense Cannabis Reform
We demand that Wyoming stops throwing its residents in jail for possessing small amounts of marijuana. We also want legalized medical for people who would really benefit, such as vets who have PTSD or people who struggle with daily pain but do not want to use opiates . 
Non-Discrimination Now!
We demand that our state lawmakers pass a statewide nondiscrimination law that protects LGBTQ people from being fired or evicted on the basis of their sexuality or gender identity.
No Public School Cuts!
We demand that state lawmakers stop cutting Wyoming public school funding and hurting Wyoming students.
Sign up at the top of this page!