TELL THE HOUSE REVENUE COMMITTEE: DON'T BAN REPRODUCTIVE HEALTHCARE!
The Wyoming Legislature's House Revenue Committee will consider a bill on Thursday morning that would ban pharmaceutical abortions, "Senate File 109 – Prohibiting Chemical Abortions."
While abortion remains legal in Wyoming, clinics that perform the procedure are scarce and can be hard to access. Pharmaceutical abortions account for more than half of all abortions nationwide, and that figure is surely larger in Wyoming.
Read more about the bill here: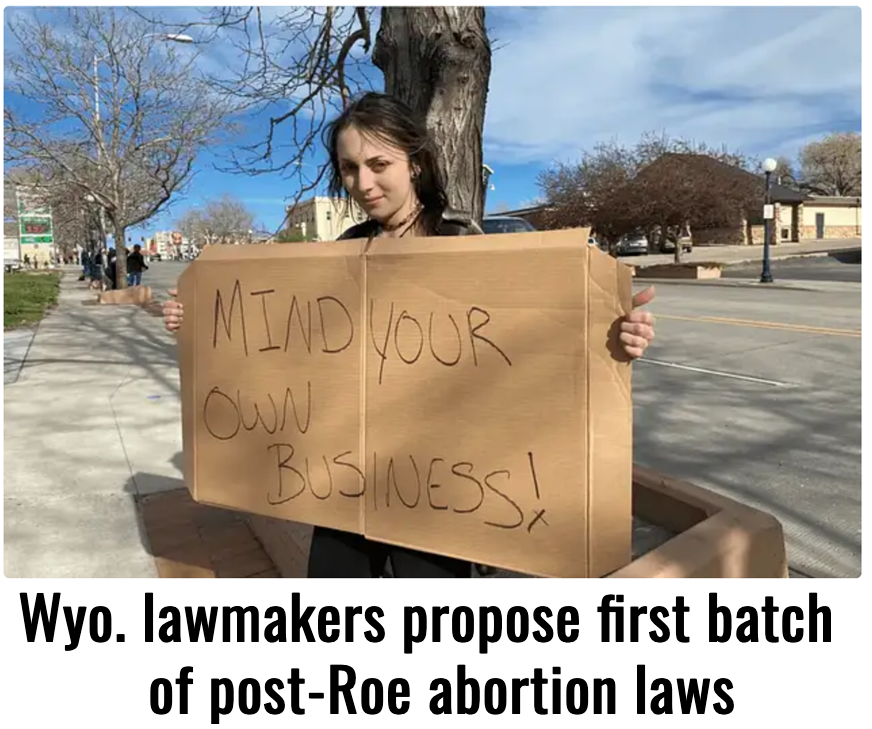 The committee will meet to consider this bad bill at 7:30 a.m. on Thursday, Feb. 23, in Room E3 in the Wyoming Capitol. 
We need Wyoming residents like YOU to take action to protect reproductive healthcare in our state.
Here's what you can do:
.
ACTION 1: Email the committee
Write an email to all nine members of the House Revenue Committee asking them to vote "no" on SF-109.
Your email should be simple, brief, and contain three parts:
1. Tell them who you are. Make sure to say you're a Wyoming voter.
2. Tell them what you want. "Please vote 'no' on SF-109"
3. Tell them why you want it. Add a sentence or three about why you think restricting reproductive healthcare is a bad idea.
Personalize your message by explaining why YOU think HB-109 is wrong for Wyoming. But feel free to look at the talking points we've included below.
Here is a list of the committee members. Their addresses are below, so you can easily copy and paste them into an email.
Committee members
Rep. Steve Harshman (chair; Casper)
Rep. John Bear (Gillette)
Rep. Andrew Byron (Wilson)
Rep. Tony Locke (Casper)
Rep. David Northrup (Powell)
Rep. Ember Oakley (Riverton)
Rep. Liz Storer (Jackson)
Rep. Tomi Strock (Douglas)
Rep. Dan Zwonitzer (Cheyenne)
Here are their email addresses to copy and paste:
[email protected], [email protected], [email protected], [email protected], [email protected], [email protected], Liz.Sto[email protected], [email protected], [email protected]
Here are some TALKING POINTS
Wyoming already has a trigger ban working its way through the courts, and HB-152, a total ban, going to the Senate in the current session. We do not need another abortion ban, especially one that criminalizes common medications in every day usage.
This bill would make medications that are used literally every day in women's health very difficult to access. These medications save lives and allow us to care for all sorts of OB and GYN problems. What pharmacist will dispense these medications to patients and face a potential jail sentence? Then what will we as doctors do when we cannot do our job as we have been trained to do?
This legislature is creating an environment that is toxic to women's health. In a rural state where labor and delivery units are closing county by county, why are we making this situation worse? Why would a young ob/gyn come to practice in this state, where she is potentially facing criminal penalties on a daily basis?
These drugs are used for the treatment of miscarriages, induction of labor, and other pregnancy health complications. If pharmacists and doctors are reluctant to provide these drugs for the treatment of miscarriages and other conditions, the wait for women to receive treatment can be dangerous and traumatizing.
Since the federal Food and Drug Administration has approved the four specific drugs named in the bill, it would likely violate the Interstate Commerce Act, which forbids states from meddling in free trade, as well as the Supremacy Clause, which stops states from crafting policies that contradict federal law.
+
ACTION 2: TESTIFY!
We need to pack the committee room with supporters of reproductive healthcare access.
Again, the meeting is at 7:30 a.m. on Thursday, Feb. 23, in Room E3 on the first floor of the Wyoming State Capitol in Cheyenne.
You can testify in person or remotely via Zoom.
This is less scary than it seems. Just write down your main points, practice a time or two, and rest assured that the committee chair and others in the room will be professional and respectful. Of course, you should be, too.
Keep it brief: Your testimony should be to the point, and no longer than two minutes.
Keep it personal: You do not have to be an expert. Speak from your own perspective, tell your own story, and share your own values.
If you plan to testify remotely via Zoom, you will need to register to do so the evening before the meeting (Wed. evening).
Here's how:

1. Go to the 'legislative meetings' page on the Wyoming Legislature's website and select the tab for Thu., Feb. 23
2. Find the "House Revenue Committee" meeting
3. Select the "Testify" button and fill out the form

That's it! Then you just show up on Zoom as the instructions state.
Thank you so much in advance for taking action. Together, we can fight the effort to criminalize reproductive healthcare.