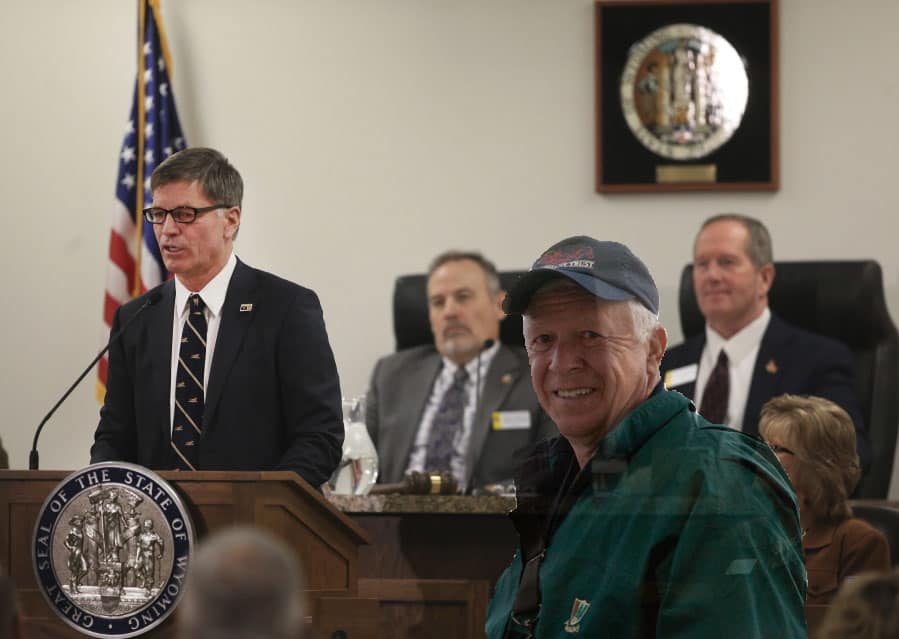 Foster Friess may be sunning himself in Arizona during the 2019 Legislative session, but the influence of his wealth is present.
Billionaire Foster Friess may have lost the Republican primary for governor to Mark Gordon, but that hardly means that he's stepped away from Wyoming politics.
As the 2019 Wyoming State Legislative session convened this week, signs of his influence were easy to spot—even if he, himself, had retreated to sunny Scottsdale, Arizona, where he lives much of the year.
Friess is the main driver behind two bills that are up for introduction, with powerful sponsors. A gaggle of reporters working for his new political news outlet are roaming the halls. And he's recruited lobbyists formerly associated with the Wyoming Liberty Group to peddle his influence.
He even sent a troupe of students from his private school in Jackson down to sing for the lawmakers and warm their hearts to his causes.
"Wyoming is Friess' sandbox"
Friess is a longtime national political donor and power broker. He is clearly miffed by his loss to Gordon, and it's caused him to turn his attention to the state where he "resides."
As one veteran lobbyist told us, "Wyoming is Foster Friess' sandbox. He thinks he can buy anything he wants, whether it's people, the Legislature or other institutions."
Friess' dive into the Legislature is yet another instance of the ultra-wealthy using their fortunes to shape Wyoming politics.
No more Democrats "putting on a Republican coat"
Friess has two things on his legislative plate right now. First is an issue that, coincidentally, is also the Republican State Committee's number one priority for the session: keeping people from switching their party affiliation before the primaries.
Friess joined Harriet Hageman as the two leading right-wing candidates in the crowded GOP gubernatorial primary. But they finished second and third, respectively, to the more moderate Gordon, who was then the State Treasurer.
"He thinks he can buy anything he wants, whether it's people, the Legislature or other institutions."
Friess attributed Gordon's win to an alleged groundswell of Democrats switching their party affiliation at the polls to vote for Gordon. The day after the election, Friess wrote a letter to state GOP Chairman Frank Eathorne to complain about the state's primary system—and to urge him to join the effort to change it.
The vehicle for that change is Senate File 32, sponsored by Sen. Bo Biteman (R-Ranchester), a far-right lawmaker who was helped into power by another billionaire in 2016.
Friess' bill would prohibit people from switching parties between the first day candidates can file to run and the date of the primary election. This, Friess believes, would thwart the efforts of Democrats who "have been able to control our elections with putting on a Republican coat."
Bulldozing local control for Friess' private school
Eli Bebout (R-Riverton) is sponsoring Friess' second bill. Bebout is probably the most powerful person in the Legislature: He's the former House Speaker, former Senate President, and current co-chairman of the Joint Appropriations Committee, which decides the state's budget.
Friess objects to the recent Teton County Commissioners' zoning decision against a rural private school he funds, which is trying to expand. Bebout has sponsored Senate File 49, which would prohibit counties from controlling the location, use or occupancy of private schools provided they're situated on at least 35 acres and enroll at least 50 students.
"It's just an escalation of home-schooling"
Friess' proposed Jackson Hole Classical Academy School expansion would enroll up to 245 students and use 116,000 square feet of building space, including two structures that would exceed the rural zone's 10,000 square-foot limit.
Bebout, who professes to be a strong proponent of local control, told WyoFile that Friess' proposal is "just an escalation of home-schooling" and that the commissioners "overreached" their authority in rejecting it. He added that "sometimes there are disagreements and the Legislature has to get involved."
It's funny how eager the Legislature is to mediate "disagreements" when there's a billionaire mega-donor involved.
Bebout and Friess also share the common aim of defunding Wyoming public schools in an effort to replace them with a private school voucher system. Bebout has long been a vocal advocate of cutting state education funding, and Friess is a charter school champion, donating large sums to groups like Americans for School Choice and All Children Matter.
Critics of SF-49 wonder whether this instance of undermining local control might lead to further inroads in the school privatization effort.
A new right-wing mouthpiece
Veteran Wyoming journalists and politicos are also eager to suck on the supple teat of Friess' vast wealth, promoting his causes along the way.
When we arrived on the Legislature's opening day, we were surprised to run into former Wyoming Press Association Executive Director Jim Angell, Wyoming Broadcasters Hall of Fame inductee Robert Geha, renowned Wyoming videogapher Mike McCrimmon, former White House digital director Jimmy Orr, and longtime political strategist Annalise Wiederspahn, who's the daughter of former U.S. Representative Cynthia Lummis.
This motley crew comprises the staff of the Cowboy State Daily, a new online political news outlet that Friess launched to promote his agenda at the Legislature. Under the director of Wiederspahn, these longtime journalists will give a sheen of objectivity to what is explicitly a partisan project.
This isn't Friess' first foray into media companies. SourceWatch reports he has sunk more than $3 million into Fox News' commentator Tucker Carlson's Daily Caller website.
Where the deer and the billionaires play …
Another addition to the Friess team at the Capitol is lobbyist Jonathan Downing, who's been hired to promote Friess' school bill. Downing is the former director of the Wyoming Liberty Group, a conservative think-tank started by another billionaire who moved to Wyoming, Susan Gore of Texas.
Imagine the sense of entitlement that comes with being that rich.
The veteran lobbyist we spoke with, who preferred to remain anonymous, compared Friess to Gore in their efforts to exercise power in the halls of state government.
"They believe they can get whatever they want without having to go through the machinations of the legislative, executive and judicial branches," the lobbyist said. "When the Wyoming Liberty Group started, their people tried to run roughshod over legislators and intimidate them.
"I hope we're not going to see the same thing happen again with Friess."
But of course it's going to happen. Imagine the sense of entitlement that comes with being that rich. Billionaires are accustomed to getting absolutely everything they want.
Since Friess couldn't buy the governorship, he's going to buy every consolation prize he can to salve his wounded ego.
https://betterwyo.org/wp-content/uploads/2019/01/Friess-sneak.jpg
639
899
BetterWyoming
/wp-content/uploads/2020/07/A-Better-Wyoming_logo.png
BetterWyoming
2019-01-11 14:17:24
2019-01-14 14:02:25
As the Wyoming Legislature convenes, Foster Friess' influence is everywhere