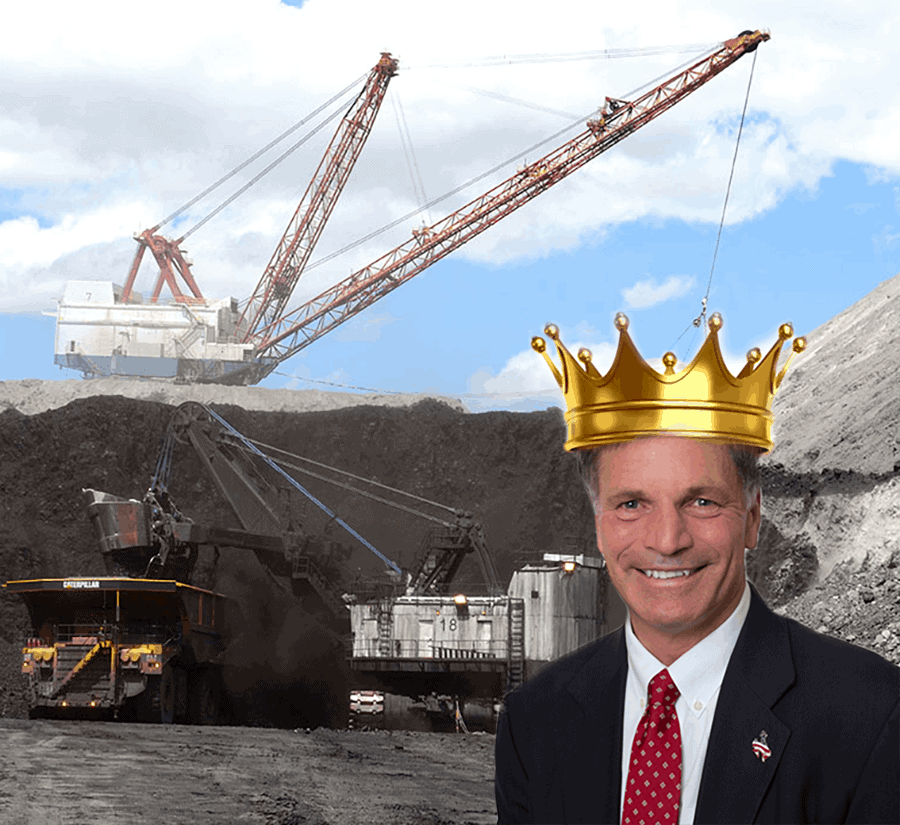 Gordon has taken the throne of the Coal Kingdom.
Wyoming Governor Mark Gordon has been acting as an unofficial promoter of the coal industry since he took office last year.
Hearing that coal is going by the wayside across the nation, he declared "Not on my watch!" during his speech at the start of the 2020 legislative session.
Gordon has claimed that coal will help fight climate change, he's pushed a lawsuit against Washington for its not allowing Wyoming to ship coal from its ports, he's bullied utility companies who try to phase out aging coal-fired power plants, and he's supported the investment of tens of millions of dollars into "clean coal" research.
Apparently, Gordon thinks that if you take product that people are already turning down because it's too expensive and gussy it up via a costly process, buyers will soon be knocking down your door to buy the new, even higher-priced product.
It's simple economics, right?
Anyway, Gordon will have the chance to further cheerlead the coal industry with the passage of House Bill 4, which will give his office a cool $1 million to spend on a "coal marketing program."
In essence, the Office of the Governor of Wyoming will transition from being an unofficial marketing agency for coal into an official one.
Will $1 million for marketing make a difference?
One million dollars would be a lot of cash to spend on marketing if you were a Mom and Pop store in downtown Casper.
But if you're a state budgeting that same amount to market a product on a global scale that other states and industries don't want to use anymore, it's a pittance.
For example, the $1 million from HB-4 is a whopping 1/88th of what the Dairy Farmers of Wisconsin and Milk Processor Education Program spend each year on two campaigns to promote white and chocolate milk.
Avocados From Mexico, meanwhile, spends nearly $100 million per year on its marketing campaign, including an annual Super Bowl TV commercial that costs nearly $6 million to broadcast. This year's ad featured actress Molly Ringwald hosting a TV shopping network featuring avocado items, including a luxury yurt.
What would $1 million buy Wyoming? How about Carrot Top dressed like Santa, putting a lump of "clean" Equality State coal into a stocking?
But since the governor wasn't given a Super Bowl-size budget, the commercial would only air during late-night horror movies. And since the money isn't enough to hire an actual marketing firm, it looks like Gordon's staffers will be left to learn a new trade.
Keep in mind that Wisconsin and Mexico are promoting products that, unlike coal, consumers actually want to buy. Milk and avocados aren't being made less appealing every year because new and more efficient products are replacing them, or because states and nations are passing policies to actively discourage their use.
HB-4 is nothing more than another bold-looking act meant to make Wyoming appear tough in the "War On Coal." But its real purpose is to hide the fact that we have no control over market forces, and that our "leaders" have no plans to move Wyoming away from dependence on a dying industry.
Coal's decline isn't a marketing problem
The Joint Minerals, Business and Economic Development Committee spent the last interim session studying how the Legislature could help bring the coal industry back.
It latched onto the coal marketing idea and sponsored HB-4.
But not every committee member was on board. Sen. Chris Rothfuss (D-Laramie) told his colleagues at an August meeting in Casper that the coal industry doesn't have a marketing problem. It has an access to markets problem.
"An advertising campaign isn't going to get us there," he said.  
"I don't want these funds to be used to send folks from Wyoming over to Asian markets, have wonderful experiences but no kind of measurable outcome."
But HB-4 steamrolled through the House last week, where it passed with 55 – 4 vote, though proposed amendment to increase the budget to $2 million failed. It will likely sail through the Senate, as well.

In its initial Senate reading Tuesday, the bill generated few comments, though one legislator sounded a warning.
"I just don't want these funds to be used to send massive amounts of folks from Wyoming over to Asian markets, have wonderful experiences but no kind of measurable outcome," said Sen. Affie Ellis (R-Cheyenne).
Ellis was referring to the numerous trips that Wyoming politicians and officials have taken to visit Asia over the past decade, with nothing to show for it but a vague sense that, somehow, Wyoming must get its coal to "the Orient."
Sen. Jim Anderson (R-Casper), co-chairman of the Minerals Committee, pushed back against Ellis. He said justifying the $1 million expenditure will be no problem.
"We can show a return on investment with coal markets increasing and coal facilities exporting coal from Wyoming," he said. "We can show that by the ton if you want!"
Well, Jim, we'll be waiting. And we'll be looking forward to those late-night Carrot Top commercials in the meantime.
https://betterwyo.org/wp-content/uploads/2020/03/gordon-coal-king.png
825
900
BetterWyoming
/wp-content/uploads/2020/07/A-Better-Wyoming_logo.png
BetterWyoming
2020-03-05 11:03:41
2020-03-05 11:03:41
Gov. Mark "King Coal" Gordon to receive $1 million annual Wyoming coal marketing budget